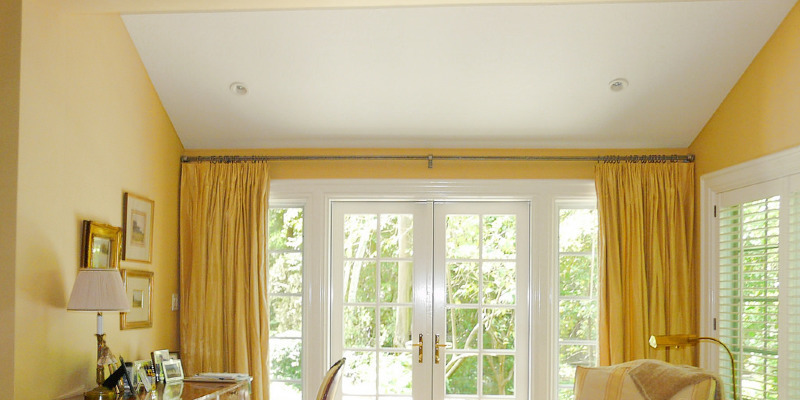 Cozy, Modern Family Home in Oregon
Emily and Steven Miller moved into their home in Portland's West Hills neighborhood in 2002. They bought the house in part due to all the natural lighting throughout the home. With the support of interior designer Gilyn McKelligon, the Millers utilized clean lines and a warm color palette to turn their home into a cozy, contemporary escape.
at a Glance
Who lives here: Emily and Steven Miller and their 2 daughters
Location: Portland, Oregon
Size: 2,200 square feet; 3 bedrooms, 2.5 baths
That is interesting: The family members' names are stamped to the legs of the dining area table
Whitney Lyons
"I like things that are clean but not stark. I wanted a hot but clean atmosphere," says Emily. The couch, chairs and ottomans from the living area were custom made by Trios Upholstery. The large ottoman opens for extra storage.
Whitney Lyons
The dining room table and chandelier were custom made by Gearhart Ironwerks. The woven chairs are from Donghia. Emily's parents lived in Japan for several years from the 1960s, and they bought a couple pieces of art, which have been passed to Emily and have inspired her own art purchases. The painting that hangs in the dining area was bought by Emily by a Japanese artist living in California.
Whitney Lyons
Steven wanted to use iron for the dining room table legs to help keep with the sleek, contemporary theme. It had been his idea to stamp the four legs with each relative's name. Daughter Alexandra"always has to sit in the chair by'her' table leg," says Emily, laughing.
Whitney Lyons
In keeping with the clean lines and uncluttered look of the home, this multipurpose chair is equally resting place and storage bin.
Whitney Lyons
The Millers found a picture of a den that they enjoyed and shared it with McKelligon, who'd Michael A. Smith Co.. Fine Cabinetry custom construct the desk, cabinets and shelves. The desk chairs are Design Within Reach. "It is always useful if a client finds images of items they like. You will like things that are contemporary or more traditional," states McKelligon. "But if you put pieces together that you love, it always goes together."
Whitney Lyons
Alexandra's kindergarten class created this vibrant painting. "The art was offered at our school auction. We liked it and thought that it fit the distance," says Emily.
Whitney Lyons
Neighborhood artist Jennifer Mercedes worked with the couple's daughter Anna and her first-grade class to create this word-inspired part of art that hangs from the living area.
Whitney Lyons
The Millers added closets from the family room, custom made by Hayes Cabinets. "I really like the pure lighting, clean lines, open area and hot tones," Emily says. "As a family, this is where we invest our time where our memories are created."
This cozy, girlish play area was created on the landing.
Whitney Lyons
The bedrooms are a little girl's fantasy. A punch of color in each room adds personality. The bedside lamps were done by Naomi's Lamps. McKelligon utilized Raoul Textile fabrics for its exquisite blinds.
Whitney Lyons
The pillows from the bedrooms were done by Raoul Textile, including a pop of color with fun patterns to customize each girl's bedroom. The tables in the girls' rooms are by Bungalow 5.
More
Ranch House in the Northwest Suburbs
Northwest Home using a Mountain View
Whimsical Chateau from the Pacific Northwest