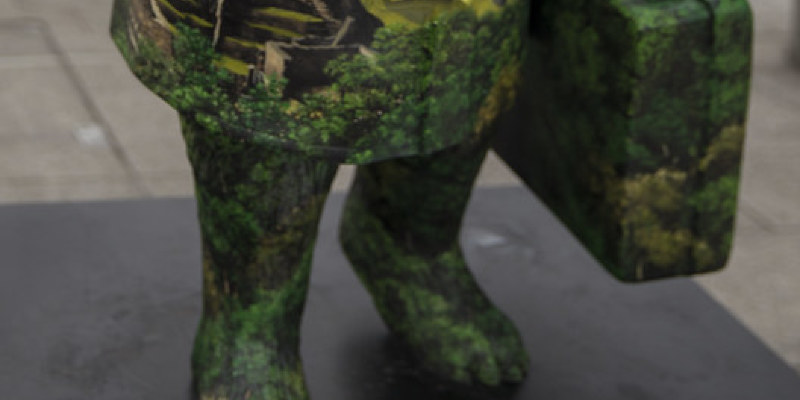 Conventional on the Outdoor, Quirk Appeal Inside
Jenn Clapp loves her house's vibe. Traditional on the exterior and contemporary eclectic on the inside, the self-confessed oddball collector and interior designer's Greek revival home in the 'burbs oozes charm and character — and attracted Jenn and her husband, Gregory, from the get-go. "Even when the home was vacant, it still felt comfy," Jenn says. "I charge all the prior homeowners for this. Their conclusions were almost always right when it came to the stream of the house."
Ahead of being possessed by the Clapps, the house belonged to the town's fire chief; it is the reason it's the only one in town with two driveways. "He had an additional spot for his truck," she states. "When one of the cabinets we have painted chips, a pop of fire engine red paint — obviously — peeks through."
at a Glance
Who lives here: Jenn Clapp and her husband, Gregory
Location: Newburyport, Massachusetts
Size: 2,204 square-foot
Design challenge: Moving out of a tiny city space in Boston to what felt like a huge space. Jenn says, "It was so overwhelming to fill up"
Mary Prince Photography
A hardworking island in the kitchen takes routine beatings. "If we've got a free day in winter, you can bet we are arranging a dinner which requires three hours and three glasses of wine to finish cooking," says Jenn.
Exposed beams throughout the first level add heat, and also the kitchen floor lends the space a trodden, worn appeal. The Clapps love living using a material which may get scratched and cracked and looks better with age.
Mary Prince Photography
The kitchen has two sinks: an undermount sink beside the dishwasher plus a stainless steel utility sink beside the cooker, which is useful when dumping water or draining spuds.
Gregory almost refinished the worn wood top, but after he realized that they could cut and prep on the surface, he maintained it; the top is also more forgiving with glassware and china. "We can chuck a plate onto it, and even though there's always a soft thud, there is no breaking," says Jenn.
Mary Prince Photography
This opinion shows where the Clapps store their washing machine and drier — in the kitchen. "It helps that they're gloomy and fit the base cabinets. I need to say that placing them in the kitchen is awesome. I will never have them in the basement," Jenn says.
Dining table: custom, Staples Cabinetmakers; pendant: Nelson Saucer, Design Within Reach; dining seats: Modernica; classic bar stools: Brimfield Antique Show
Mary Prince Photography
The couple's home office is a mixture of classic and contemporary: Jenn paired a Design Within Reach trestle table using a classic table lamp and hauled to the eclectic mix an antique orange chair and a tall antique filing cabinet.
Mary Prince Photography
"I ran to my parent's farm in New Jersey before the transfer and took everything out of my youth that I had uttered, beginning with dried bugs, rocks, bird nests, pieces of dug-up antique china and animal bones. Skulls — I might have a table or wall only for my skulls," Jenn says.
Mary Prince Photography
As soon as the Clapps first transferred out of a small space for this house, Jenn felt liberated to "snap things up" on a whim, " she states, knowing that she could find a shelf or tabletop for a certain collector's part. "I can't tell you how happy I'm making compositions. I have always been interested in juxtaposition; it is fun to see that a woodchuck skull sitting along with my grandmother's floral stitching tin," she states.
Document cabinets: Craigslist; picture ledges: West Elm
Mary Prince Photography
Jenn and Gregory converted the main path linking the kitchen, dining room and home office to the living room into a library. A CB2 pouf, a classic Scandinavian chair plus a classic table lamp make up a modern classic trio and dining room.
Chair: Swedese; floor lamp: Machine Age
Mary Prince Photography
Jenn place Gregory to work "for several hundred hours," she states, building the shelves. "A small soccer on the TV and a couple of ales got him through it," she adds.
Mary Prince Photography
The few converted a small addition in the back of the house into their living space, which freed up the home's front room and made space for the home office. They coated the linoleum flooring with Flor tiles, including instant coziness and lending the space some acoustic help.
Mary Prince Photography
The designer splurged on a midcentury credenza in the midcentury modern store in Boston called Machine Age. "I'd much rather have one awesome piece with a lot of character than a room filled with stuff that are fair," she states.
Mary Prince Photography
Mary Prince Photography
The Clapps' backyard tells a story of a relationship that is deepening with time. "I'm not going to lie: I needed to fill in our pool. It is one of the largest pools I have ever set eyes short of ones in Las Vegas. But once we got over the maintenance component of maintaining it, we started enjoying the sound and sparkle of the water, and I realized that it adds a lot of energy to the lawn," says Jenn.
She along with her dad planted vegetables and herbs in terra-cotta pots. Then "Greg and I purchased big black containers and filled them with tall grasses. It moved out of a barren garden to an oasis," she states.
Mary Prince Photography
Jenn hasn't met a wall which she didn't enjoy for artwork. "I'm an art addict. No wall is not any great," she states.
She stuffed a gallery wall to the next floor from the stairs landing with classic prints, Etsy discovers along with a skull.
Mary Prince Photography
The guest bath is Gregory's dad's labour of love: He demolished the toilet and heeded the couple's request to create the space more modern. However, Jenn didn't need to have the bath to feel like as much of a departure from the standard house, so they added beadboard plus a Restoration Hardware dressing table, giving the toilet a neutral, transitional design.
Tile flooring, walls: Boston Design Center
Mary Prince Photography
If the soft black furniture in the guest room appears intentionally paired, it is because Gregory painted the armoire and chair, unifying the pieces and ridding the space of a hodgepodge look. "Our parents offered up random pieces of furniture once they found out we got the house, but they were different forests," says Jenn. The paint gives a look to the space and the furnishings.
Mary Prince Photography
Jenn knocked down a wall between two rooms and produced a master suite, with space for a king-size mattress. "I always believed king beds were ridiculous. Now I can't return to anything smaller," she states.
Moving forced her to create smarter spending decisions, but "there was no way she was giving up a midcentury credenza for a bed's headboard," she states. "We snapped up some chalkboard paint behind the bed, got a metal bed frame and mattress skirt, and called it a day"
Sconces, bedside tables, dressers: Restoration Hardware; coverlet: Maharam; antique "C": Brimfield Antiques Show; bedding: Unison
Mary Prince Photography
Raindrop decals include the master bath and whimsy, color and movement. "The diagonal patterns help break up an otherwise sterile corner. Plus, they had been 6 dollars on Etsy," says Jenn. She admits that she's not the biggest fan of her "YMCA toilet," as she calls it, but occasionally "it is far better to adopt the ugly than try to pretend it is not there," she states.
Decals: Pauline, Etsy; octopus hand towel: Thomas Paul; antique medical examples: Suzanna Scott
Mary Prince Photography
The exterior of the home reflects the area's preference for Greek revivals and other Victorian fashions, although Jenn opinions that Newburyport does surprise and is beating itself.
"As for the inside of the house looking like everybody else's — I doubt it," she states. "I really don't think Peggy next door has a skull collection."